Now Playing: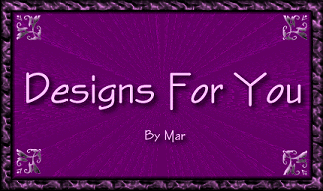 Welcome and thanks for dropping in. Here you will find
backgrounds custom made by me. Most are what I call
unusual and one of a kinds! Intended for the person that
likes to stand out from the rest. Dare to be different!!



I can and do make backgrounds and buttons at request,
so if you have something you want made, all you have to
do is to send me some mail with the details.
ALL backgrounds here are bordered.



If you use one of my backgrounds
please be courteous and give me a link back using my graphic below!!






I use Paint Shop Pro 5 for all my designs, with a little help
from a couple of small programs. The backgrounds are
done in all different sizes. If for some
reason they are not right, or need to be adjusted for your page,
email me and let me know which one and I will more than glad to
adjust them for you. All graphics are FULL size on pages.
(Who wants to have to click more than once to see it)



Please email me and let me know you are using it, so I can come
see your site.
















I am always adding new things, so please come back soon to
see what has been added.
Graphic Links to My Other Pages

**HOT**Graphics Etc..**HOT**
**HOT**GraphxGirls**HOT**
The Graphics Depot
HOT SITE**Mar's Nature Backgrounds & Things**HOT SITE



You are my special visitor number


Submit your page to 34 popular sites for free, using one form!
This site is powered by


Contact webmaster with questions about or problems with this web page.
© Copyright 1998 Web Creations. All Rights Reserved
Created April 1998
Last updated June 26th, 1999